Postet av Styret den 8. Sep 2021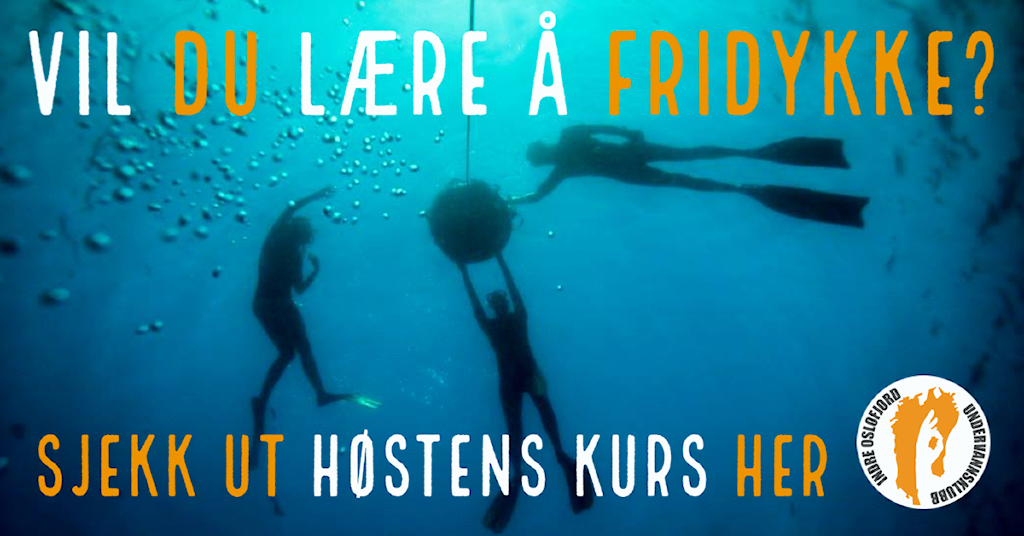 Indre Oslofjord undervannskubb har fått en ny fridykkeinstruktør, Mario. Han kjører kurs på engelsk, så informasjonen nedenfor vil derfor også være på engelsk.
Hva skjer med barne- og ungdomssatsingen Unge Under? Dette er absolutt noe vi vil satse på, men må la det bero litt til vi finner instruktører for dette.

Indre Oslofjord undervannsklubb are happy to present Mario Blanco as our new free diving instructor.
Mario Blanco is Spanish-Argentinian. A lawyer by academic formation, he currently teaches and practices Contact Improvisation dance, somatic disciplines and freediving.


He has been a freediving Instructor (AIDA) since 2016. Has taught in Thailand, Egypt, Portugal, Turkey and Spain, as well as trained for competitive events. He has co-developed the practice and brand Oceandance, integrating freediving and dance.

Indre Oslofjord Undervannsklubb we now have our new clubhouse at Nesoddbrygga and plenty of excellent equipment, and we are looking forward to seeing our community enjoy the underwater fjord.
With this in mind, we will be running several freediving courses during the second half of September and October.

We focus on quality over quantity. On that premise, we will only have small groups, with a maximum of 4 students per course.
The courses and the course materials are delivered in English, following the standards of AIDA (International Association for the Development of Apnea), the international referent in freediving education.
All the equipment needed for the course (wetsuit, finns, weights, mask and snorkel) is provided by the Indre Oslofjord Undervannsklubb. The equipment is thoroughly cleaned and disinfected following Covid-19 safety practices.
To ensure the education quality, the courses spots are limited by the maximum student/instructor ratio, which is 4 students to 1 instructor.
In this stage, our intention is to offer a first contact with the practice of freediving, through one-day introductory courses (AIDA 1). This will give you basic skills to enjoy and expand your snorkeling, and it will give you a taste of what the actual freediving practice is about.
By the end of this season, we plan a couple of basic Freediving courses (AIDA 2). This is the initiatory course in freediving education, in which you can learn and practice the actual freediving techniques and disciplines.
The AIDA 2 course has a duration of 2 and 1/2 days. However, in case you have joined the AIDA 1 course, and then decide to sign for AIDA 2, you will be exempted from joining the first half-day of the course, and the course price (AIDA 2) will be adjusted for you.
The courses schedule, as it is proposed here, is subject to modifications in order to meet the community demand.
COURSES OUTLINES
AIDA 1
This course is intended as an introduction to the practice of freediving for complete beginners. It will help you develop the basic skills, knowledge, and safety procedures necessary to enjoy freediving safely within the limits of your experience.
You will learn:
•Breathing Cycle
•Equalization
•Basics of Safety
•Disciplines
•Equipment
During this course, you will dive in Open Water to a depth up to 10m.
Duration 1 Day (Min 6 hs.)
Dates for the course
18 September
19 September
25 September
26 September
2 October
3 October
Price Nok 1200,- AIDA certification included (Nok 1000,- for members of IOUK)
AIDA 2
This is the foundation in freediving education, it is a beginner course for students who are already confident in the water.
The purpose is to familiarize the student with the skills, knowledge, safety, and procedures of freediving. Students will be introduced and will practice all the basic freediving disciplines: Static, Dynamic, Free Immersion, and Constant Weight freediving.
The course is NOT aiming toward competitive freediving.
You will learn:
• Breathing Cycle
• Basic Physiology
• Equalisation
• Freedive Technique
• Safety
• Equipment
• Freediving Disciplines
During this course, you will dive in Open Water to a depth up to 20m.
Duration 2 and 1/2 Day (Min 15 hs.)
If the course is taken after completing AIDA 1, the first 1/2 day is omitted
15 October (1/2 day, evening)
16 October
17 October


18 October (1/2 day, evening)
23 October
24 October
Price Nok 3500,- AIDA certification included (Nok 3200,- for members of IOUK)

Sign up for the course here:
https://forms.gle/dMRwcXV5E6DK7Kbo9
---
Kommentarer
Logg inn for å skrive en kommentar.